Water Heater (electric)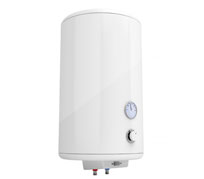 The Home Wizard app calculates your ideal home care program to avoid problems with your Water Heater (electric), but sometimes trouble can still occur. Here are answers to questions about water heater (electric) circuit breakers broke.

QUESTION FROM Jimmy
The circuit breakers controlling my electrical water heater turn off automatically too often recently. Do you know what causes this problem? Thanks.

ANSWER FROM HOME-WIZARD
Dear Jimmy:

When an electric water heater is tripping circuit breakers, it is sometimes an indication that one of the heating elements has some of it's voltage going to ground (sometimes called electrical "leaking"). This can occur due to the water level having been low in the tank at some point, and then the top electrical heating element in the tank having gotten overheated. If this is the case, then the element would need to be replaced. In addition, the thermostat on the unit could also be an issue. And then lastly, if everything has been fixed with the water heater and you still have the problem, then the circuit breaker itself may have been affected and need to be replaced.

Please keep in mind that electricity (especially high voltage electricity like around your electric water heater) and water together make for a very DANGEROUS combination. It is best to leave this kind of diagnostic and repair work to trained professionals.

Hope this is helpful.
Home-Wizard.com

Water Heater (electric)