Dehumidifier
Routine Care Task
Perform annual maintenance
Priority





The above annual maintenance will help the dehumidifier operate more efficiently, help keep it disinfected, and will help extend its useful life.
NOTE: The tasks and timings shown here for your Dehumidifier are based on a single-family home (owned), located in Massachusetts, United States, with priority set at '1 star' or higher, for all possible goals.
If you set your personalization differently in your Home Wizard app, then you may get reminders for different tasks and timings in your recommended home care program for your Dehumidifier.
How To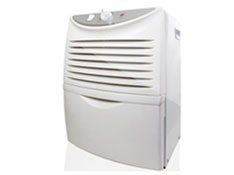 Check you manufacturer's recommendations and unplug the unit before doing any work on the unit. Annual maintenance on a dehumidifier typically includes:

Replace or clean the air filter: Remove the access panel and replace or wash the air filter.

Clean the collection pan: The unit will contain a collection pan for holding the condensate water. Even if you empty the pan regularly, you should still wash it periodically with soap and water or a disinfectant in accordance with your manufacturer's recommendation.

Clean the condenser coils: The condenser coils are behind the exhaust grill. Use a vacuum to remove dust on and between the coils.

Lubricate the fan motor: Follow the manufacturer's directions on how to apply oil to the fan motor.

Check fan and motor hardware: Check for any looseness of the fan or motor nuts and bolts and tighten if necessary.

If the unit has a pipe that goes from the collection pan to a drain, ensure that the pipe is connected properly and secured so that water does not leak out.
Benefits
Avoiding Unscheduled Repairs

Maintaining Value

Health & Safety

Energy Savings
The benefits of this task are moderately high. Doing this task help your dehumidifier operate more energy efficiently, help keep it disinfected, and will help extend its useful life.
Costs





The cost of this task is moderate. It is estimated that this task should take about 60 minutes to complete. According to your manufacture's recommendation, you will need soap and water, a disinfectant, a vacuum with an upholstery attachment, and some lubricating oil.

Dehumidifier